| | |
| --- | --- |
| Chattooga, Georgia, US/South Carolina, US | |
Rock Gorge - Burrell's Ford to Lick Log Creek (AKA Section 1)
| | |
| --- | --- |
| Usual Difficulty | II-V (varies with level) |
| Avg. Gradient | 38 fpm |
| Max Gradient | 125 fpm |
Gauge Information
Name
Range
Difficulty
Updated
Level
CHATTOOGA RIVER AT BURRELLS FORD, NR PINE MTN, GA
usgs-02176930
200 - 2000 cfs
II-V
00h54m
445 cfs (running)
Due to an arbitrary decision by the Forest Service, the river is not boatable unless the river has previously exceeded 350 cfs the same day.
River Description
NEW RULES!
The new rules include:
Allow paddling to occur between Green Creek and Lick Log Creek (about 15 of the 21 miles of the Upper Chattooga),
Allow paddling to occur between December 1 and April 30, on days when flows have hit 350 cfs or higher.
Permit must be obtained at locations shown below. Burrell's Ford (GA side) is easiest for this reach.
Leave paddling banned on the uppermost two miles, the lower four miles, and all tributaries all year.
It would also ban paddling from May 1 through November 30 on the entire Upper Chattooga, and on all days when flows have not hit 350 cfs or above.
Impose no direct limits on other similar visitors.
These severe restrictions are the only of their kind in the entire Unites States, and are intended to benefit anglers who pursue heavily stocked non-native trout. The artificial fishery created by the USFS-sanctioned stocking has significant impacts including hatchery pollution, backcountry helicopter disturbances, near elimination of native brook trout, user created angling trails, and the elimination of nature based paddling from the upper Chattooga River. Ironically, the USFS decision actually harms anglers across the Country by creating potential competition for wild rivers that are currently shared by all forms of backcountry recreationists, and by degrading the rights of anglers to fish from a boat.
During a press briefing, the acting Sumter Forest Supervisor, Monica Schwalbach, stated that the US Forest Service has determined that boating on the upper Chattooga -- even in unlimited numbers -- "would have no impact on the resource."
AW has been working for a decade to bring responsible, nationally consistent river management to the Chattooga, and this work continues today.
For more information about American Whitewater's efforts to remove this boating ban go to the Chattooga Project page
This page was put together from information gained during the Forest Service Boater Trials as shown in this video and Trip Report.
River Description
The upper approximately 2.5 miles of the run is swift water and gradually increased in difficulty culminating in a few Class III ledge drops just upstream of Big Bend Falls. At moderate flows, these drops are easy to approach, scout and run from a boat. Stop on the river right above Big Bend Falls, at approximately Mile 3. The Big Bend Falls rapid is a river-wide waterfall made up of a series of smaller ledges dropping approximately 25 feet. Mile 4 included a number of Class III to IV read-and-run rapids. At approximately Mile 5, you reach four approximately Class IV rapids above the Rock Gorge. The Rock Gorge consists of a series of Class 4 rapids closely spaced in a narrow canyon. Following the Rock Gorge, and approximately 1 mile upstream of Lick Log Creek, the river returns to Class I and swift water. Approximately 200 yards below Lick Log Creek is the required last legal takeout for the run. The next five miles to the 28 bridge consists entirely of swift water but are illegal to boat to protect an artificial fishing experience created by heavy stocking of exotic fish. The total run time is about 5 hours.(adapted from FS Expert Panel Report)
This run is the best scenic run on the Chattooga. The moss covered rock cliffs along the sides, relatively open vistas from the water, and relaxed nature of the trip makes this a wonderful way to spend the day on the water. The rapids are all significant so its a long flatwater trip if you don't have Class V skills.
Emergency Locations
| | | |
| --- | --- | --- |
| Big Bend Trailhead | N34°57.006' | W83°06.870' |
| Rock-in the-Hole-in the-Wall | N34°56.509' | W83°07.237' |
| Lick Log Creek Trailhead | N34°55.821' | W83°07.878' |
Reach Profile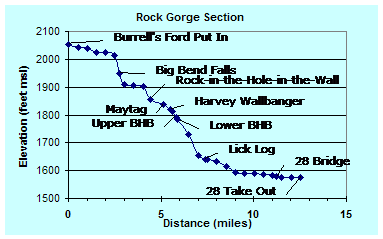 Related Reaches
Chattooga Cliffs (AKA Section 00)
Woody Debris
This section of the Chattooga has special concerns about large woody debris for fish habitat. Please respect the environment and leave wood as you find it, even if it adds a portage. The Chattooga has a remarkable ability to clean itself and the rapid may be ready next time.
For more information about woody debris in rivers go to Large Woody Debris and Stream Ecology
Permit Information
http://www.fs.usda.gov/Internet/FSE_DOCUMENTS/stelprdb5357690.pdf
Permit must be obtained at Green Creek Trail, County Line Trail, or Bull Pen Bridge in NC, Burrell's Ford Rd (GA side of the river), Warwoman Campground (FR 86) and Overflow Creek in GA, or Hwy 28 boat landing, Low Water Bridge, Earl's Ford, Sandy Ford, Fall Creek, Thrift's Ferry, Hwy 76 / Bull Sluice lot, and Woodall Shoals in SC.
StreamTeam Status: Not Verified
Last Updated: 2013-04-19 14:30:28
Editors