| | |
| --- | --- |
| Winnipesaukee, New Hampshire, US | |
2. Cross Mill bridge road to Franklin
| | |
| --- | --- |
| Usual Difficulty | III+ (varies with level) |
| Length | 1.25 Miles |
| Avg. Gradient | 80 fpm |
| Max Gradient | 90 fpm |
Gauge Information
River Description
New Years Day 20

14
Once again the Merrimack Valley Paddlers has rented the Universalist Church in Franklin for the NYD Icicle paddle. The church is located at the other end of Main St. from Trestle View Park. We provide a warm place to change clothig and a hot meal after the paddle. The event is, as always, done up right by MVPs executive Chef Nanci with help from Sous chef/AMC trip leader John J.
Come one/all, club membership not required (but expect to get hit up anyway, its only $15/yr.)
BYOB but we usually have hot coffee & cocoa, and rest rooms.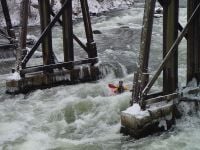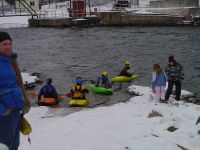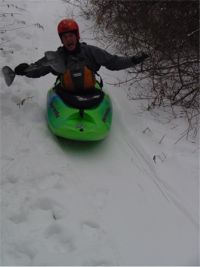 This year the we will continue to press for the Winnipesaukee Recreational plan. The New Hampshire Department of Environmental Services is in the process of creating a Lake / River management plan that will affect flows on the river.

Winnipesaukee Recreational Plan: Info at: Winni Proposal We need backing on this from the paddling community. We are looking for summertime releases on this river and this event will help publicize our request.
The Winnipesaukee river was a heavily used industrial river in the early 20th century. The upper Merrimack Valley was considered the bread basket of New Hampshire about a century ago. Wheat and other grains grown in the Franklin region was transported to several grist mills that were built on the banks of the Winnipesaukee river. Dams were built to harness the mechanical power for turning grinding wheels that turned the grain into flour. There are still several grinding stones that can be seen along the river bank. They are about 4' in diameter with a hole in the middle and what looks like spokes ground in the granite stone. Those mills are now mostly gone with trees replacing the scenery. The dams were eventually knocked out one by one by the force of nature. There are no fewer than 7 dam sites along this short stretch of river. In the early 90's local boating clubs organized several cleanup days during low water in August. Log cribbing, rebar, and other trash were removed to make for a safer run.
This river continues to draw more boaters every year. It is also the location for the traditional New Years Day run organized by the Merrimack Valley Paddlers. An event that always gets alot of local press.
Technical info

Put in elevation........390'
Take out elevation......290'
Total drop..............100'
Average drop/mile.......80'
Distance................1.25 miles
River width average.....60'
River geology...........Small to medium schist and granite boulders, many of
                        which are unatural blocks cut for buildings and dams. 
River water quality.....Good in spring fair latter in Summer, clarity fair to good.
Scenery.................Fair, remains of early 20th century industrial age 
                        being reclaimed by forest, up to seven old dam sites 
                        with some log cribbing and some rebarr, two delapated 
                        factories.
Wildlife................Deer, Weasels, Merganzers, Blue herons. 

Trestle View Park update 12/20/07
After many years of planning, fundraising and meetings the town of Franklin New Hampshire has finally completed the new riverside park at the Lower Winnipesaukee River takeout. The park located on 2 acres of land at the takeout of the lower Winnipesaukee River features a river level take out ramp, grass, trees, and a 11-1/2 ton 15 foot diameter industrial flywheel that was used in a mill just a quarter mile downstream from the park. This flywheel is the centerpiece of the park and will probably become the most recognized landmark in Franklin in the near future. A bathroom/changing room is now complete.
The park is a culmination of wide ranging efforts from the town of Franklin, The Friends of the Winnipesaukee, the Grevoir family, American Whitewater and the Merrimack Valley Paddlers. It was built on land donated by the Grevoir family who are the owners of Grevoir Furniture, which abuts the park. Fundraising efforts for the park continue, they are having a fundraiser to help pay for the town's portion of the new park. The fundraising plan calls for selling bricks that will be used for the walkways around and through the park. Blank bricks will sell for $10, engraved bricks with up to 42 characters of your choice will sell for $50 each. Go here for the form to make a donation for the commemorative park.



For an overall river map click here:
Winnipesaukee map
StreamTeam Status: Not Verified
Last Updated: 2013-12-29 11:21:11
Editors