Gauge Description:
The closest real-time gauge is White Salmon at Underwood. Many paddlers, however, go by the staff gauge at Husum and paddle this section at a minimum of 3' (it gets harder and less fun with lower flows as more rocks become exposed and a couple drops get too bony). An estimate of this gauge based on correlation to the Underwood gauge can be found on Pat Welch's site. For reference, a flow of 3' corresponds to approximately 1150 cfs on the Underwood gauge. While these estimates are useful for planning, the decision to paddle should be based on personal inspection of the flow.
NOAA Graph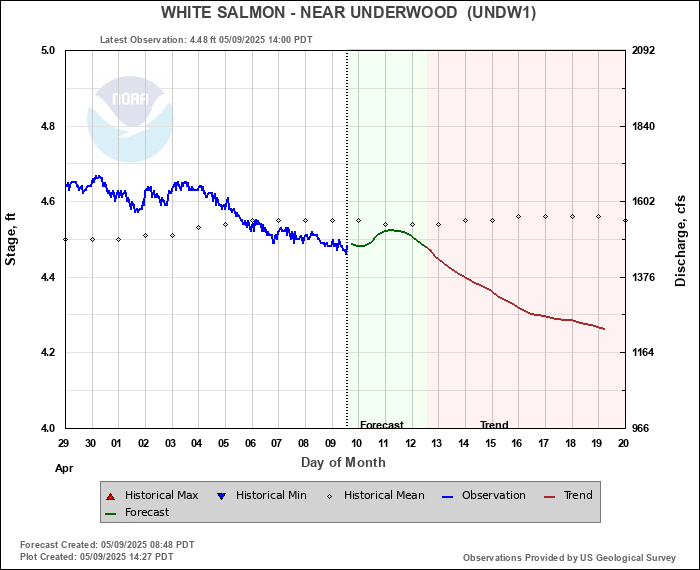 USGS Graph
Gauge Information
Name
Range
Difficulty
Updated
Level
WHITE SALMON RIVER NEAR UNDERWOOD, WA
usgs-14123500
1000 - 1800 cfs
IV-V
00h31m
502 cfs (too low)
Inspect the foot gauge for exact flows, this section class IV(V) from 2.5'-4.5'


| Range | Water Level | Difficulty | Comment |
| --- | --- | --- | --- |
| 1000 -1800 cfs | barely runnable-high runnable | IV-V | |
Reports give the public a chance to report on river conditions throughout the country as well as log the history of a river.