American Whitewater's National Accident Study
Posted: 02/06/2006
By: Jennifer Plyler
Covering Non-Motorized Human Powered Craft 1995-1998 
Prologue
It's a bright sunny day. Two friends load an old aluminum canoe and head for the pastoral retreat of a local pond. The fishing poles are along for the ride. The faded orange horse-collar lifejackets will make great backrests as they bask in the sun.
In another part of the country, a group of kayakers set a car shuttle. They've paddled this Class II-III section of the river successfully many times. They'll end their day by having dinner at the local eatery and discussing paddling plans for the following weekend.
Big water, big river, that's how these friends spend their time together. They load up the rafts and head out for a weekend of fun. They'll camp, tell stories by a warm, glowing fire, and share lots of laughs about the day's events.
These are three very different groups, but in the past few years a few of them have ended a day on the water with a tragic, unexpected drowning.
Introduction
The goals of this study were to gain a better understanding of why drownings happen, what preventive measures could be taken to decrease them, and develop a greater understanding of where our boating safety efforts should be focused. Specifically, this study examines comparative risk factors for non-motorized human powered boating accidents for kayakers, canoeists, and rafters. To answer these questions, American Whitewater studied hundreds of accident reports from American Whitewater Journal (Journal) articles and the United States Coast Guard's (USCG) Boater Accident Reports (BAR's) dating from 1995-1998.
American Whitewater requested the accident reports from Bruce Schmidt, Statistician with the USCG Office of Recreational Boating Safety, in the spring of 1999. When we received the electronic files, we understood why it took more than six months to collect and send this data. To ensure the confidentiality for the victims and their families, Mr. Schmidt meticulously reviewed all records and removed all references to names or other identifying information. American Whitewater commends Mr. Schmidt and the USCG for working to provide us with this information.

Accident Reports used in this Study
The data American Whitewater received was based on BAR's submitted to the Coast Guard. Under the Boater Safety Act of 1971, state' Boating Law Administrators are required to complete a BAR on all boating accidents and submit the form to the USCG. This information is then entered into a Coast Guard database. Each accident is assigned a record number and contains the date of the accident, cause of the accident, location, water conditions, personal flotation device (PFD) use, alcohol use, vessel type (kayak/canoe or inflatables), and a narrative of the accident.
American Whitewater (AW), by contrast, receives reports of whitewater accidents through a volunteer network of local paddlers. Newspaper articles, Internet postings, and personal narratives are regularly submitted. While an unknown number of incidents are missed, our database provides us with a good sampling of accidents occurring in our sport. Although they represent a fraction of the total number of the boating accident reports received by the USCG, AW reports are consistently more detailed and accurate.
State Boating Law Administrators are required by law to complete a BAR on all water-related accidents in their jurisdiction. For various reasons these reports are not always filed. From 1995 to 1998, an average of 14% (18)[4] of all whitewater water-related fatalities were reported to American Whitewater (AW) but no BAR was submitted to the USCG (fig 1). Several of the missed accidents involved internationally known whitewater kayakers and were widely reported in the mainstream press.
Although the Coast Guard has the most comprehensive database of water related accident reports, the accuracy of their BAR's varies widely. Information is often incomplete, contradictory, and inaccurate when cross-referenced with the detailed whitewater reports contained in the American Whitewater database. In states like Pennsylvania and Ohio, where watercraft officers receive good training in accident investigation, the quality of the BAR's were generally high. The same cannot be said for investigations performed by people lacking specialized training in water safety. 
Here are some of the problems we encountered:
Determining the boat types from the BAR's was surprisingly difficult. For example, under vessel type, canoes and kayaks were lumped together. "Inflatable" was a catchall category involving powered and non-powered craft. There were even instances where an accident appeared to involve a motorboat instead of a non-motorized human powered boat as listed in the USCG database. The author had to check the narratives closely to determine the exact vessel type, and was not always able to do so. In these cases, the vessel types were coded as "unknown."
Many narratives said that the "boat capsized" but never explained why this happened.
 Many accidents occurred in cold water (below 50 degrees Fahrenheit) but this was often not listed as a "cause" per se. Consequently, it was often difficult to conclude the role that cold water played in accidents for all boat types.
Although a failure to wear PFD's was not often listed as a cause of the accidents described in the narratives, this behavior is clearly linked with trouble. Between 1995 and 1998 over 50% (86) of all accident victims were not wearing PFDs. This problem, although not common among kayakers (whitewater, recreational or ocean touring), was a major factor in many canoe accidents that occurred on flatwater.
Descriptive terms for water conditions also caused problems. The USCG offers these descriptive options:
Calm (waves less than 6")
Choppy (waves 6"-2')
Rough (waves 2'-6')
Very rough (waves > than 6')
This listing is more applicable to ocean or lake conditions than to those found on streams and rivers. There is no separate category for moving water, which is often a factor for accidents occurring on rivers and streams. It was often difficult to determine whether current was present, creating hazards associated with swift water.
Furthermore, the narratives did not always match the water conditions checked on the form. For example, if the body of water was a lake, under "water condition" it might be described as choppy. Then in the narrative the water conditions are described as a "calm lake." In some cases the author extrapolated the water conditions from the narratives based on her knowledge of certain rivers and lakes.
It would, of course, be ideal if the USCG and State Boating Law Agencies adopted the International Scale of Whitewater Difficulty that was pioneered by American Whitewater (See Appendix). Descriptions of the classes used to "rate" rapids are included in the "Whitewater Safety Code" (See Appendix). This scale ranges from Class I, described as occasional riffles with low, regular wave patterns, to Class VI, a rapid at the extreme limit of navigability for whitewater experts. According to Rich Bowers, AW Executive Director, "American Whitewater is committed to working with the USCG and Boating Safety Administrators to ensure that more descriptive and accurate set of categories included in the BAR's." The Class I-VI rating system may be impractical for investigators untrained in the subtleties of river classification. However, an investigator can easily choose between "no current", "fast current", and "whitewater rapids." This would clearly separate whitewater accidents without going through the BAR's individually.
Despite the pitfalls within the USCG data, it remains the single most comprehensive database of boating accidents. The USCG database for 1995-1998, supplemented by water-related accidents reported in the Journal, and a similar study by Joan Maybe described in River Safety Report 1989-1991,[5] forms the basis for this report and the analysis that follows.
Non-motorized Human Powered Paddlesport Trends
[6]
American Whitewater's intent is to provide general information on boating fatalities, boater profiles, and recommendations for safety programming. Non-motorized human powered boating trends provide a context for analyzing the safety record of paddlesport participants. We can use this information to help us understand why some boating accidents occur, who is likely to be involved, and what can be done to prevent them. If we know how many people participate in canoeing, kayaking, and rafting, then we can have a better understanding of what the number of deaths tells us.
Table 1. Number of Kayak, Canoe, and Rafting Participants and Enthusiasts for 1994-1995, 1998, and 1999
 

1994-1995

1998

1999

Vessel

Participants

Enthusiasts

Participants

Enthusiasts

Participants

Enthusiasts

Kayak

2.6 million

400,000

4.2 million

400,000

5.1 million

600,000

Canoe

14.1 million

3.6 million

18.1 million

2.9 million

17.5 million

2.1 million

Raft

15.2 million

3.8 million

9.7 million

1.1 million

8.8 million

1.7 million

Total

31.8 million

7.8 million

32 million

4.4 million

31.4 million

4.2 million


Sources: Cordell, Ken, McDonald. Barbara, and Briggs, J. Alden. 1995. Emerging Markets for Outdoor Recreation in the Unites States based on the National Survey on Recreation and Environment. Research conducted by the Sporting Good Manufacturers Association and the USDA Forest Service. www.outdoorlink.com/infosource/nsre.
Outdoor Recreation Council of (ORCA). 1999. Outdoor Recreation Participation Study for the , Second Edition. Highlighting the Enthusiast. Prepared by Leisure Trends Group/Gallup. Boulder, CO. 303.786.7900.

Through anecdotal information and observations we know that participation in paddle sports has grown dramatically in the last decade. Boaters who have been around a while will confirm that rivers and lakes are more crowded than ever.
We found that although the total number of participants for kayaking, canoeing, and rafting has remained relatively stable since 1995, the distribution of enthusiasts[7] among the various segments has changed  significantly(Table 1). There are more kayak enthusiasts now than ever. The number of rafting enthusiasts increased in 1999 after a significant decline from 1994 to 1998. And although canoeists make up the largest percent of all enthusiasts, their numbers are decreasing because newcomers prefer to buy and use kayaks.
Boating demographics are also changing. More women are participating in canoeing and kayaking and more men are getting into rafting. Even though canoeists out-number kayakers six to one, current kayak sales (recreational, whitewater, and ocean touring) exceed canoe sales 
Table 3. Best-selling boat categories in 1999 according to manufacturers and retailers
| | | |
| --- | --- | --- |
| Boat Category | Retail | Manufacturer |
| Recreational kayaks | 39% | 11.5% |
| Recreational canoes | 29.2% | 18.9% |
| Sea/touring kayaks | 10.4% | 12.9% |
| Whitewater kayaks | 10.4% | 4.9% |
| Inflatables | 3.2% | 8.2% |
Source: Paddlesports Business. 1999. 1999 State of the Paddlesports Industry Report. Sponsored by Paddlesports Business and Canoe and Kayak Magazine.
 Canoeists had 17.5 million participants and 2.1 million enthusiasts in 1999 (ORCA, 1999). Overall manufacturer and retail sales reflect the large number of participants in this segment given that recreational canoes fall within the top two best-selling boat categories (Table 2). However, boat makers, retailers and the ORCA (1999) report confirm that recreational canoes are not rated as a hot market segment in the future (Table 3).
 In 1999, rafters had 8.8 million and 1.7 million participants and enthusiasts respectively. However, the number of enthusiasts represents an over 50% decline from 1995-1998 (3.8 million to 1.7 million-Table 1) (ORCA, 1999).
 Of the total number of paddlers in 1999, roughly 4.2 million were considered enthusiasts (ORCA, 1999). Of the 4.2 million, the number of kayaking enthusiasts was estimated at 600,000; canoe, 2.1 million; and raft, 1.7 million. According to Jason Robertson, American Whitewater Access Director, of the roughly 2.7 million canoe and kayak enthusiasts (600,000 + 2.1 million), approximately 720,000 are whitewater paddlers.
Overall Non-Motorized Human Powered Boating Related Fatality Trends
Figure 2 indicates that prior to 1995, the frequency of drownings tended to spike every two to three years but remained relatively stable over the years. However, since 1996, non-motorized human powered boating deaths have been increasing annually. This rise could reflect an increase in popularity and corresponding increase in the number of enthusiasts in the sport in the mid-1990s. Or, it might simply represent an increase in reporting as evidenced by the number of reports received on popular Internet newsgroups such as rec.boats.paddle.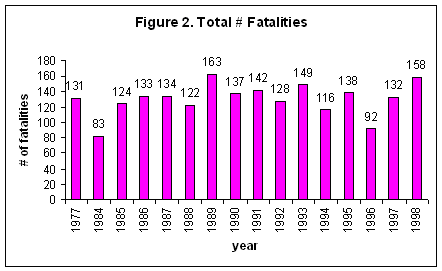 The problem is that the data supplied does not breakout fatalities for participants and enthusiasts. But we can make some statements about fatality trends using the total number of fatalities for both of these groups.
Is the recent increase in fatalities significant? Yes and no. Any drowning is one too many. However, the total number of deaths related to non-motorized human powered vessels was 168 out of 32 million participants in 1998, a less than one-tenth of one percent death rate.
Is the recent increase in fatalities significant among enthusiasts? Again, yes and no. The total number of enthusiasts has decreased from 7.8 million in 1995 to 4.2 million in 1999 and the total number of fatalities has increased slightly in recent years.
The number of kayak enthusiasts has increased almost 50% from 2.6 million in 1995 to 5.1 million participants in 1999 while their death rates have remained stable. The number of canoe enthusiasts has decreased from 3.6 million in 1995 to 2.1 in 1999 but the number of fatalities has increased. Finally, the number of rafting enthusiasts has decreased from 3.8 million to 1.7 million in 1999 and their fatality numbers are decreasing (ORCA, 1999 and SGMA and the USFS, 1995). The trends demonstrate that the safety record for kayakers and rafters are good but canoeists are facing some challenges. However, the numbers (total number of enthusiasts versus the number of deaths for each vessel type) show that death rates for enthusiasts for all boat types is negligible. Even when the total number of whitewater enthusiasts (720,000) is compared to the total number of deaths (for enthusiasts and participants), the death rate is still a miniscule.
Nevertheless, this recent growth in fatalities should be a wake-up call for all paddlers given that many of these deaths were preventable by wearing PFDs, assessing water conditions more closely, or by using proper clothing.

Whitewater paddling safety trends versus other adventure sports
In September 2000, American Whitewater completed a comparative study on whitewater safety and usage.  This study was designed to determine a national whitewater fatality rate, based on measured levels of use on 30 managed rivers.  American Whitewater found that there were an average of 0.86 fatalities per 100,000 whitewater boaters (both private and commercial) over a five-year period between 1994 and 1998.  In 1998, the whitewater fatality rate for these same rivers was slightly higher at 1.15 per 100,000. Both numbers represent maximum fatality rates as the total private use numbers are almost certainly underreported.
Whitewater kayaking fatalities were higher than the overall whitewater fatality rate with 2.9 fatalities in 1998 per 100,000 participants.  In comparison with other common activities kayaking appears to be relatively safe: scuba diving (3.5), mountaineering (3.2), or driving a passenger vehicle (15.2).
Officials for 35 managed rivers were asked for use figures for private and commercial boaters, and whitewater boating fatality data for the five years between 1994 and 1998.  Of the 35 river managers contacted, 30 supplied data fitting our requirements. Since commercial rafting companies submit detailed seasonal use numbers, their totals are significantly more accurate than private use counts, which were measured under a variety of different methods with different levels of accuracy and completeness.
There were 5,732,683 commercial boaters and 1,687,880 private boaters in the five-year study period, for a total of 7,420,563 whitewater boaters. During this same period there were a total of 64 whitewater boating deaths, including 26 commercial boater deaths and 38 private boater deaths; 17 of these deaths occurred on just one river, Colorado's Arkansas River. Eleven shore-based deaths (from activities like falling off cliffs or jumping off bridges) were also reported and subsequently omitted from the total. American Whitewater calculated 0.86 whitewater fatalities per 100,000 boaters, or 2.25 private boater deaths per 100,000 and 0.45 commercial boater deaths per 100,000.
Where and When Fatalities Occur
Most water related accidents occur in the spring or summer for all vessel types (Table 4). This fact has remained unchanged since the 1970's.
Table 5. Deaths for time of year and vessel type
| | | | | |
| --- | --- | --- | --- | --- |
| Vessel Type | 1995 | 1996 | 1997 | 1998 |
| Kayak | Summer | Spring | Spring | Summer |
| Canoe | Summer | Spring | Summer | Summer |
| Noncommercial | Summer | Summer | Summer | Summer |
| Commercial | Spring | Summer | Summer | Summer |
| Unknown | Summer | Summer | Spring | Spring |
Table 6. Most frequently reported accident locations (state) by vessel type
 

1995

1996

1997

1998

Kayak

California

Montana

Wyoming

New Jersey

Tennessee

Washington

Colorado

California

Canoe

Wisconsin

California

Massachusetts

Washington

New York

Oregon

Missouri

Alaska

Noncommercial

Multiple states1

North Carolina

Multiple states

California

Oregon

New Mexico

Commercial

California

Multiple states

Multiple states

California

Unknown

Minnesota

Washington

Colorado

Maryland

Maine

Virginia

Florida

Vermont
1 Multiple states indicate that five or more states had the same number of accidents.
Table 7. Most frequently reported primary causes of accidents by vessel type
Vessel Type

1995

1996

1997

1998

Kayak

Strainer/sieve

Low head dam/undercut

Unknown/

inexperience/

pinned in water

Strainer/

unknown

Canoe

Unknown/

hyperthermia/

Large hole

Unknown/

strainer/

flood

Alcohol/no PFD

Unknown/

no PFD

Non-

Commercial

Flood/pinned in water

Flood/foot entrapment

Unknown/

strainer/

capasizing

Flood

Commercial

Flood

Undercut/flood/health problems

Unknown/

strainer/

undercut

Strainer/

flood

Unknown

Unknown/

capsizing

Unknown/

Health probs/

capsizing

Unknown/

capsizing/

bad weather

Unknown/

low head dam
California, Colorado, and Washington State had the greatest number of accidents from 1995 to 1998 (Table 5). These states have more whitewater rivers, and because much of the river flow comes from snowmelt, long periods when high water seasons and warm weather coincide. Although a connection to cold water was not substantiated by the data, it is worth noting that rivers fed by snowmelt are always very cold.

Causes and Contributing Factors of Non-Motorized Human Powered Boating Fatalities-Introduction
It is important to make the distinction between contributing factors and causes throughout this report. Cold water, improper PFD use, and whitewater are contributing factors but they are not a primary cause of accidents based on the data. They do, however, make a situation worse. In whitewater accidents, failure or improper use of a PFD and exposure to cold water are most often listed as contributing factors, not primary causes. For example, a paddler may drown in cold water but the primary cause of the accident could capsizing after hitting a rock or encountering a violent storm. Although the cold water may have limited the paddler's ability to save himself or hampered rescue attempts, it did not cause the accident.


Causes of Non-Motorized Human Powered Boating Accidents
According to the narratives, the primary causes of all non-motorized human powered boating fatalities from 1995-1998 were (Table 5):
Strainers or an obstacle on a river that allows water to pass through but is too small to allow people or boats to pass through. Examples include fallen trees, debris, or jumbles of boulders.
Flooded rivers or creeks that result from heavy rains or increased snowmelt for example.
Being caught and held in a large hydraulic. A hydraulic is created when water flows over an object and creating a recirrculating upstream flow beneath the water's surface.
In addition to these causes, many boats were described as "capsized" but it was unclear as to what caused the boat to turn over. Thus, many accident causes are really "unknown." Based on the narratives, drownings from capsizing could have been caused by health problems, alcohol, and lack of PFD use.
Some people believe that water-related fatalities in non-motorized human-powered boats are most often associated with whitewater[8]. However, the data tells us a very different story. From 1995 to 1998, the percent of drownings on whitewater versus flatwater were nearly equal (Figure 4). Accidents are just as likely to occur on flatwater as whitewater.
In contrast, boating related deaths in the ocean were significantly lower than other water conditions despite the increased popularity in sea kayaking. When accidents did occur on saltwater, the majority of fatalities were caused by severe and often unexpected changes in weather conditions such as high winds, waves, or lightening.
Contributing Factors to Non-Motorized Human Powered Boating Accidents
In general, PFD misuse or no use appears to be a major contributing factor in water related fatalities. On the average, 50% (86) of all victims from 1995 to 1998 failed to wear a PFD, or used one improperly (Figure 3). In fatalities involving PFD misuse, the victims fell into one of three categories of groups:
·        PFDs were not found on the victim or in the vessel,
·        PFDs were in the vessel but not worn, or
·        PFDs were in such poor condition that they were useless.
Deaths resulting from PFD misuse or non-use are preventable. In fact, deaths related to PFD non-use continue to rise! According to Rich Bowers, American Whitewater Executive Director, this increase "could be attributed to better reporting of accidents¾but whatever the case, no one should ever boat in any water conditions without a PFD."
With the advancements in cold water paddling equipment and clothing, one would expect a decline in the frequency of boating accidents in cold water (< 50 degrees Fahrenheit). However, the number of fatalities in cold water has remained unchanged since 1970's. Figure 5 indicates that cold water conditions could have been a contributing factor in roughly one-third of all water-related accidents from 1995 to 1998. It is disturbing that this figure is essentially unchanged compared to Maybe's (1992) earlier findings for specific boat types (i.e., kayak, canoe, and noncommercial rafts) given the advancements in cold water boating equipment. 
Impact of Reporting on Determining Causes and Contributing Factors
Sketchy reporting of the causes and contributing factors was evident in my general analysis of boating accidents. Further compounding the analysis was that many of the causes and factors could be interconnected. For example, PFD use was associated with vessel type as demonstrated with the canoe accident victim profile that follows. In other words, canoe-drowning victims in general failed to wear lifejackets. Of the victims paddling unknown vessel types from 1995 to 1998, an average of 80% (31) did not wear a PFD! Accurate reporting of vessel type could have further substantiated or refuted my analysis of the following boater profiles.
The general data presents a broad picture of boating fatalities, but as we explore further, a clearer image of accident victims emerges.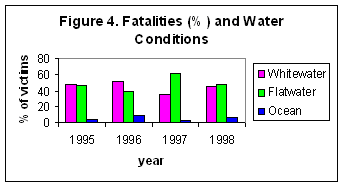 Non-Motorized Human Powered Boater Profiles
 Perhaps the most compelling information that the Journal, USCG data and Maybe's (1992) report gives us is a clear description of who is involved in boating related fatalities, which in turn points to several areas to focus future safety program efforts.
 The four scenarios described in the prologue represent the unique demographics of those perishing on our waterways.
Canoeists

Clearly, canoe fatalities occur more frequently than accidents involving kayaks (Figure 6). Although deaths among canoe victims have not returned to the high point observed in 1977, they have been on the rise since 1995.  Given that there were 17.5 million canoe participants in 1999 and that recreational canoes were the top-selling boats in 1999, we can probably expect to see an increase in canoe accidents in the next several years (ORCA, 1999 and Paddlesports Business, 1999).
The inexperience of canoe victims is clear when you realize that the primary cause of canoe related accidents was failure to wear a lifejacket (Figure 7). The typical USCG narrative reads, "Vessel capsized on small pond. Victim was not wearing a PFD." An average of 50% (38) of the victims paddling canoes during 1995 to 1998, and nearly 90% (57) in 1997 and 1998 failed to wear a PFD. The narratives supported that PFD non-use was the actual cause of most drownings involving canoes, rather than just a contributing factor.
Canoe accidents usually occur on flatwater (Figures 8 and 9). The typical accident scenario involved a fishing trip; a family outing; or a day of swimming on a pond, lake, or placid river. Whitewater was essentially a non-issue among victims of canoe accidents. In fact, only a small number (11) of canoe accidents occurred in whitewater.
Exposure to cold water is often a contributing factor in canoeing fatalities. From 1995 to 1998, cold water conditions were associated with roughly 30% (13) of canoe accidents (Figure 10). Inexperienced boaters rarely invest in cold water paddling gear or may be unaware that it is available.
 
 Kayakers - The Missing Link

It is important to note that that there is a major gap in the accident reports for kayaks. We do not have information on drownings involving recreational kayaks (i.e., Keowees, Swifty, Crossover, and other flatwater kayaks) since the BAR report does not break down kayaks by type. Yet, this is an important market segment comprising the first and third best selling boat categories according to retailers and manufacturers respectively in 1999.
Charlie Walbridge, American Whitewater Safety Editor concludes that there are one or two recreational flatwater kayak deaths per year but points out that this is a fairly safe group given the estimated total number of flatwater kayakers. Thus, they are not addressed in detail but mentioned as a "missing link."
Kayakers can be divided into two categories: sea kayakers and recreational whitewater paddlers.
 
Sea Kayakers
Sea kayaking accidents accounted for less than 5% (7) of the boating accidents from 1995-1998 and the accident rate has remained relatively stable. When sea kayakers were involved in a boating accident, the cause was usually attributed to bad weather or sudden, unexpected changes in weather conditions. Although adverse weather conditions can cause wave swells, ocean conditions per se were not a contributing factor or the cause of sea kayaking accidents. In other words, paddling on the ocean is relatively safe if unsafe weather conditions can be avoided.
While sea kayaking has increased in popularity, the accident rates have remained relatively flat. According to Paddlesports Business (1999), sea kayak purchases comprised roughly one-third of all kayak dollar sales in 1999 and 1998. However, the rise in number of participants has not resulted in an increase in sea kayaking accidents. The same cannot be said for recreational kayakers and expert kayakers.
Lee Moyer, President of Pacific Water Sports, Seattle, WA, offered his explanation of the exemplary safety record of sea kayakers. He explained that based on his experience, "Sea kayakers are people who want to know how to avoid dangerous situations not overcome them."
 
Recreational Whitewater Kayakers
Recreational whitewater kayakers are best described as people who have likely taken a paddling and/or safety class, belong to a whitewater organization, and have paddled for 1-5 years. Recreational kayakers are considered enthusiasts if they have paddled ten plus times a year according to ORCA (1999). I would qualify this definition and say that recreational whitewater kayakers easily exceed the ORCA's minimum paddle days and typically paddle Class II-IV rivers year-round. For American Whitewater members, more than 33% paddle between 25 and 50 days annually, with more than 25% paddling over 50 days a year explains Rich Bowers, Past Executive Director (Table 7).
Accidents involving kayakers are on the rise and have been since 1995 (Figure 6). This is not surprising since there was a 50% (2.6 million to 5.1 million and 400,000 to 600,000 respectively) increase in kayaking participants and enthusiasts from 1995-1999 (Table 1), and that retailers and manufacturers rated whitewater boats as one of the hottest market segment (Table 3). Based on market trends, sales of whitewater boats will remain strong even though this segment of the market is growing at a slower rate than recreational and sea/touring kayaks.
The major causes of recreational whitewater kayaking deaths from 1995-1998 were strainers, sieves (a special type of strainer where a congregation of boulders allows water to pass through but larger objects such as people and boats cannot pass), and being caught and held in large hydraulics. Getting into these dangerous situations may have been the result of inexperience or poor judgment, but the data only absolutely confirms a few instances where this was the case.
Unlike sea kayakers and canoeists, whitewater was involved in most accidents among recreational kayakers. For example, from 1995-1998, on the average, 60% (17) of the accidents involving all kayakers, the majority of which are recreational boaters, occurred in whitewater (Figure 9). For kayakers, paddling whitewater increases the likelihood of being involved in a boating fatality but poor physical shape and the strenuous activity associated with paddling whitewater may also be a deadly combination not the whitewater itself according to Charlie Walbridge.
A high percentage of whitewater kayakers wear PFDs (Figure 7). On the average between 1995-1998, only 20% (7) of the accidents involved kayakers who were not wearing a PFD. In these cases, PFD non-use was not a cause, only a contributing factor.  If the paddlers had been wearing PFD's, their proper use might have saved their lives.
Another contributing factor to recreational whitewater kayak accidents was exposure to cold water. From 1995-1998, 25% (8) of all kayaking accidents occurred in cold water (Figure 10). Despite the availability of and vast improvements in cold water paddling equipment, frigid waters still present a challenge and a danger for recreational whitewater kayakers.
Inflatables (noncommercial and commercial)[9]
Commercial and noncommercial inflatable fatalities comprise a small percentage of the overall water-related deaths (Figure 11). But some interesting points related rafters are worth noting.[10] For example, noncommercial and commercial inflatable deaths accounted for less than 20% (8) of the total number of non-motorized human powered fatalities in 1995 and 1996. This percentage decreased to less than 10% (7) in 1997 and 1998. From 1995 to 1998, the combined number of commercial and noncommercial rafting fatalities was less than half (38) the number of inflatable fatalities (noncommercial) reported in 1985 and 1986 (Maybe, 1992)[11]. These numbers are encouraging.
Rafting fatalities, commercial and noncommercial alike, almost always occur in whitewater (Figure 12). In fact, six of the reported drownings on commercial rafting trips during the time period 1995-1998 were on whitewater. This figure dropped from 100% (6) to approximately 80% (8) for noncommercial raft trips during the same time period.
Several factors contributed to rafting fatalities. On noncommercial rafting trips, PFD use hit a low point in 1985 with half (40) of the victims failing to wear a life preserver. This number fell to 2 in 1995 but rose slightly to 4 again in 1998 (Figure 13).
In contrast, PFD use among victims on commercial raft trips is routine. Close supervision of commercial rafting guests by experienced guides makes PFD use routine. In 1996 and 1998, all eleven victims were properly outfitted with a lifejacket. In 1997, only one victim failed to wear a PFD.
But rafters' diligence seems to be compromised in one area of river safety. For example, based on the narratives in the USCG database, deaths of commercial rafters were often caused by running rivers during high water or flood stage. The same can be said for victims on noncommercial raft trips. Rafting in flood conditions increases the likelihood a long swim in cold water and increases the difficulty of rescue.  
Cold water is often linked to accidents involving commercial and non-commercial rafters (Figure 14). In 1995, three of the commercial raft victims drowned in cold water. This number decreased to one in 1998. In contrast, noncommercial raft victims succumbing in cold water averaged less than five in 1995 to 1996, decreased to one in 1996, and increased to five in 1998. Cold water compounds the danger of any swim, especially for older people, but is not necessarily the cause of the fatality. It is difficult, however, to establish clear trends because the number of deaths is pretty low..
Future trends are mixed. With the number of rafting participants rising over 8.8 million in 1999 (ORCA, 1999), we can expect to see small increases in commercial rafting fatalities, reflecting the growing popularity of the sport. But outfitters are now providing a wider choice of river trips to accommodate the increased demand. Trips on easier whitewater are becoming increasingly popular, and this trend may result in fewer accidents overall.
Wrap-up and Summary
The most significant information yielded from this study was that there are groups of accident victims within paddlesports which have distinct and contrasting characteristics. On the one hand, we have sea kayakers who, despite the increase in popularity of the sport, are infrequent victims of accidents. Their accident numbers have remained relatively stable from 1995-1998. When accidents do occur, they can be directly attributed to poor weather conditions.
Canoe accidents have been rising since 1995 despite the drop in the number of participants. However, with canoeists comprising over 55% (17.5 million) of the number of paddling participants in 1999 (ORCA, 1999), we would expect to see more boating accidents among this group than any other. Inexperience plays a major role in the drownings of these boaters given that the primary cause of death is PFD non-use or misuse.
Recreational whitewater kayakers are experiencing an increase in accidents as the number of participants and enthusiasts increase.
For inflatables, commercial and noncommercial alike, we have seen an explosion in the rafting industry but accident rates are steady and relatively low compared to canoeists and kayakers. We can attribute this to the fact that the bulk of rafting is done under the leadership of experienced professionals who almost always take appropriate safety precautions.
Sea kayaking is similar to rafting and whitewater kayaking in that there's been a steady increase in the number of participants over the past five years. Why are whitewater kayakers and inflatables more prone to accidents than sea kayakers? The answer is whitewater and its built-in dangers. But inflatables are paddled in whitewater, and both inflatables and whitewater kayaks are used in Class II-V rivers.
What makes inflatable and sea kayak accident rates lower than whitewater kayakers? Although commercial outfitters have expanded the number of rivers viable for commercial trips, kayakers still have access to more difficult and dangerous rivers year round. In other words, the number of more difficult rivers that kayakers paddle may account for the difference in their safety records from rafters.  
In general, the trends show that the number of participants is remaining the same but fatalities have increased in recent years. For enthusiasts, their numbers have decreased and the total number of fatalities (enthusiasts numbers are not recorded separately so based on total number of deaths) has increased. The safety records of kayakers and rafters are positive while canoeists are faced with some challenges. When the number of fatalities is compared to the number of participants, enthusiasts, and whitewater boaters, across ALL boat types, the death rates are negligible.
Proposed Solutions
Many beginning canoeists, kayakers, and rafters could benefit from a "Paddling 101" course where the importance of wearing a PFD and proper clothing, and evaluating water conditions and river levels with one's skills would be emphasized. This is covered by the American Whitewater Safety Code, a copy of which is included with this safety report (See Appendix).
Boaters can also take precautions to avoid the causes and contributing factors listed in this report. The section on Avoiding contributing factors and causes of non-motorized human powered boating accidents in the Appendix outlines these steps.
The good news is that we have a good way to reach whitewater paddlers community. For example, based on the 1999 American Whitewater membership survey[12], American Whitewater has access to more than 80,000 boaters through an established network of affiliations. In addition, about one in six boaters belong to a single whitewater club, and many others are members of multiple clubs. These local paddling clubs already provide safety courses and publish newsletters with this information for their members.
The segment of the population that doesn't belong to a paddling club or organization presents a greater challenge. How do we reach casual boaters launching old aluminum canoes or store bought inflatables with basic safety information? And is it a reasonable goal for a "whitewater" organization to educate them?
Absolutely! American Whitewater's safety mission clearly states, "…. American Whitewater provides information and education about whitewater rivers, boating safety… American Whitewater promotes paddling safety…"  American Whitewater is in an ideal position to be a leader in non-motorized human-powered boating safety.
Next Steps for American Whitewater
This report suggests four steps that American Whitewater can complete in order to continue its leadership role in boating safety:
1.      Persuade the Coast Guard to change the BAR form to list vessel types as follows: commercial and noncommercial inflatables, canoes, and kayaks. Moving water conditions should be based on the American Whitewater Class ratings system, or simply listed as "no current," "fast current," and "whitewater rapids."
2.      Improve detailed reporting of all water-related accidents to American Whitewater and the USCG and improve training for investigating officers so that these accidents can be reported more accurately and with more detail.
3.      Strengthen American Whitewater's partnership with the America Canoe Association, USCG, local paddling clubs, paddling equipment manufacturers, and others who are interested in elevating the issue of paddling safety.
 4.      Develop safety programs aimed at three distinct audiences - expert kayakers, recreational kayakers and rafters, and casual canoeists. Each will require a slightly different message.
 Questions or Comments
If you have questions about this report, please contact Jennifer Plyler at pls98@erols.com or Charlie Walbridge at ccwalbridge@cs.com at #04.379.9002.                                                 
I wish to thank the USCG, especially Bruce Schmidt, Statistician; Charlie Walbridge, American Whitewater Safety Editor; Lee Belknap, American Whitewater Safety Chair; Risa Shimoda, American Whitewater, Past Executive Director; Rich Bowers, American Whitewater, Past Executive Director; Jason Robertson, American Whitewater Access Director; Phyllis Horowitz, American Whitewater Administrative Director; Nick Lipkowski, Office Manager, American Whitewater; Brian Chitwood, Confluence; Lee Moyer, Pacific Water Sports; and Holly Decker and Lee Ann Carol, Perception for their support and cooperation in working on this safety report.
 Literature Cited
Maybe, Joan (1992) River Safety Report 1989-1991 and Boating     Safety Report 1995-
1998
. American Whitewater.
301.589.9453
or http//www.awa.org
Outdoor Recreation Council of (ORCA). 1999. Outdoor Recreation
            Participation Study for the , Second Edition. Highlighting the
Enthusiast. Prepared by Leisure Trends Group/Gallup. Boulder, CO.
303.786.7900.
 
            Outdoor Recreation Council of (ORCA). 1997. Outdoor Recreation
Participation Study for the , Second Edition. Highlighting the
Enthusiast. Prepared by Leisure Trends Group/Gallup. Boulder, CO.
303.786.7900.

Paddlesports Business. 1999. 1999 State of the Paddle sports Industry Report. Sponsored by Paddle sports Business and Canoe and Kayak Magazine.

Sporting Good Manufacturers Association and the USFS. Principle authors: Cordell, Ken, McDonald. Barbara, and Briggs, J. Alden. 1995. Emerging Markets for Outdoor Recreation in the Unites States based on the National Survey on Recreation and Environment. http://www.outdoorlink.com/infosource/nsre.