Current Issue
2021 Sep/Oct
Only available to current AW members.
Please login or join (if you're not already a member) to view it.
---
Browse the Journal Archive
By Year
More Recent (Members Only)
Browse By: output()?>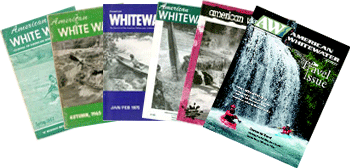 The Journal
The American Whitewater Journal was first published in 1955 as the first whitewater magazine in the United States. It was full of stories written by AW members nationwide with safety information, equipment information, and tips for better paddling technique. The AW Journal today is very similar. It's still written by AW members, and it is still full of great content for whitewater paddlers throughout the country.
Receiving the Journal
All you have to do to get the AW Journal is become a dues paying member with American Whitewater. You can Join online right now.
Submissions
Learn more about how your work can be featured in the American Whitewater Journal on our Contributor Information page.
If your files are ready to go, you can upload them right now on our Journal Submissions Form.
Advertising
The AW Journal is an excellent medium to reach the active and conscientious members of the whitewater community. Ad pricing and contact information can be found on our Advertising Page.
Journal Search
---