Planning begins for new Sauk River (WA) put-in
Posted: 07/08/2004
By: Thomas O'Keefe
In spring of 2002, the Forest Service announced a plan to develop a new put-in access for the Upper Sauk run. This project was proposed as part of the recreation mitigation package for relicensing of Seattle City Light's Skagit River dams. The existing access for paddlers is in the Bedal Campground. This access point consists of a one vehicle pull-in within the campground. The campground access road consists of a single narrow lane. The Forest Service has identified potential congestion and user conflicts when occupants of multiple vehicles desire to launch at the same time, which typically occurs on early summer weekends.
The Forest Service has identified an area below the Mt. Loop Highway Bridge over the North Fork of the Sauk River as a potential alternative launch site (map). This is located immediately adjacent to the bridge on the upstream river left side, and is an old spur road that was part of historic river crossing. This spur is 125' in length and 15' wide. The site is currently used as an informal campsite under the bridge and accessed by means of a path off the end of the spur road. A path continues from the campsite to the river.
The project objective is to develop a river access site seperate from the Bedal Campground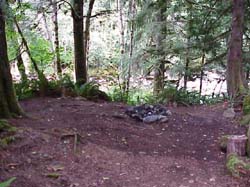 spur road and informal campsite at bridge
At this point the plan includes the following components:
Grade and surface the existing spur
Improve drainage by reestablishing ditch line and dispersing runoff across slope
Grade, surface, revegetate and widen footpath to "campsite" and down to river
Add information signage at spur
Explore options to further develop existing dispersed site across road from Bedal CG
Convert existing launch facility in Bedal CG to a campsite and provide signage directing kayakers and paddlers to the bridge launch site and signs from launch to Bedal CG for trash and toilets
Although initial planning has been completed and the project was scheduled for completion in fall of 2002, this project is currently on hold as other priorities have emerged and needed surveys on river use have not been completed. Those with constructive input or those who have an interest in seeing this project completed are welcome to contact Phil Kincare. At this point the project would not begin before 2005.
Phil Kincare
Skagit Wild and Scenic River Program
Mt Baker Ranger District
Sedro Woolley, WA 98284
360.856.5700 x263
pkincare@fs.fed.us